Barbara Erickson Named President of The Trustees of Reservations.
EverythingWestport.com
Monday, May 21, 2012
Westport, MA – May 7, 2012 – The Trustees of Reservations (The Trustees), the nation's oldest statewide land trust and one of Massachusetts' largest nonprofits, announced today that Barbara Erickson will become its next President.
<![if !vml]>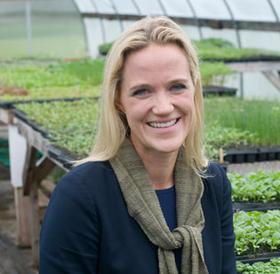 <![endif]>Following a nationwide search led by Boston firm Isaacson, Miller, Erickson was selected from a wide field of candidates to succeed Andrew Kendall, who served as President for twelve years. As The Trustees' first female President, Erickson will lead Massachusetts' largest conservation organization, which has experienced a decade of tremendous growth and accomplishments, doubling its membership to more than 100,000 supporters and protecting and caring for 106 diverse, publicly accessible properties across the state – iconic natural and cultural landscapes, popular beaches, working farms, urban community gardens, and historic homes and gardens. Erickson will join the organization in July, and will oversee an annual operating budget of $20 million, an endowment of more than $125 million, and 180 year-round staff, 400 seasonal staff, and more than 1,500 annual volunteers.
A former long-time Boston resident, passionate conservationist, and accomplished nonprofit business leader, Barbara comes to The Trustees from Save The Children, a leading international nonprofit, where she served as Vice President, overseeing the organization's fundraising and engagement functions. She is credited for helping to raise a record $200 million in philanthropic revenues in 2011. Before that, Erickson served for six years as Chief Development Officer at the Boston-based Earthwatch Institute, the world's premier environmental volunteer organization, where she led the rapid growth and diversification of the organization's revenue and funding streams, oversaw volunteer engagement and external affairs, and served as primary strategic advisor to the CEO.
"Through both my life experiences and work at Earthwatch, I know firsthand how the intersection of people and nature is critical to creating advocates for community conservation – and how imperative and exciting it is to invite more people to become stewards of our environment," says Erickson. "The Trustees are a trailblazer in convening people to care and speak up for the special places in their own communities – whether they live in a rural, suburban, or urban area – and empowering them to become ambassadors for open space. I am humbled and energized by the opportunity to build on The Trustees' considerable legacy and work with its talented staff and volunteers to make an even deeper, lasting impact in Massachusetts and beyond."
"We're excited about Barbara's experience and passion about our mission, as well as her love of the Massachusetts outdoors," says David Croll, Chair of The Trustees' Board of Directors. "Barbara brings a proven track record of leadership, strategic development and fundraising to build on the many accomplishments and partnerships fostered by Andy Kendall during his tenure. Based on her experience leading and managing large development and growth initiatives, and her strength in creating successful outreach programs, we believe we have found the bold and dynamic leader we need to move The Trustees' mission forward as we work to conserve more special places, inspire more people to join us in our work, and carry on our exemplary conservation and stewardship."
Erickson's lifelong love for our cultural and natural resources and appreciation for conservation was fostered as a child and has been one of her primary passions. Growing up on a ranch gave Erickson access to and appreciation for open space, while frequent hiking and camping trips with her family fostered a love of travel, adventure, and exploration. After becoming a Boston resident in 2001, she fell in love with the Commonwealth's rich diversity of recreational and cultural resources. Erickson has spent extensive time with her family at The Trustees' properties in all corners of the state, particularly Nantucket, Martha's Vineyard and the Berkshires. As a mother of two young children, she feels more strongly than ever that our society needs to reinvigorate its love of the outdoors, work to protect our iconic and open spaces, and inspire a sense of community and connection to place.
Convenience Store and Parents Unite: Cumberland Farms Raises Funds to Benefit Westport Elementary School PTO.
EverythingWestport.com
Wednesday, May 23, 2012
photos/EverythingWestport.com
The Westport Elementary School PTO is looking forward to a boost toward its fundraising for students thanks to a fundraiser sponsored by Cumberland Farms.
"The main goal of the hardworking PTO at our school is to build strong working relationships among parents, teachers and schools, in support of students." - Westport Elementary School Principal Tom Gastall.
<![if !vml]>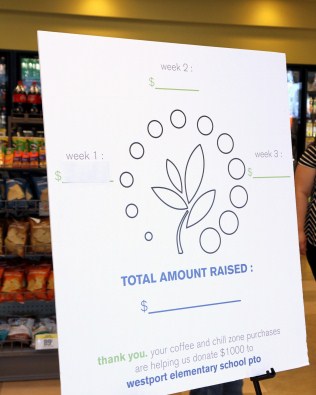 <![endif]>For four weeks beginning on Thursday, May 17, Cumberland Farms will donate 20 cents from every Chill Zone beverage, iced tea, and coffee (iced or hot) purchased at its newly remodeled store at 596 State Road in Westport toward helping the elementary school's Parent-Teacher Organization raise money for various programming efforts for students. Cumberland Farms aims to raise at least $1,000 for the PTO.
"The main goal of the hardworking PTO at our school is to build strong working relationships among parents, teachers and schools, in support of students," said Westport Elementary School Principal Tom Gastall. "We are thankful to Cumberland Farms for helping our dedicated parents put together awards ceremonies, parent education events, teacher appreciation activities and various other programs and events for our school."
"We are honored to be supporting the Westport Elementary School PTO," said Ari Haseotes, President of the Cumberland Farms Retail Division. "Cumberland Farms understands the importance of working to solve educational issues through the involvement of the parent community. We hope our donation with the help of our customers and the Westport community will boost the PTO's continuous efforts."
This past year, Cumberland Farms has donated more than $100,000 to support local organizations across the Northeast.
About Cumberland Farms
Cumberland Farms makes life easier for busy people every day. Its network of convenience stores across 11 states reflects the values of three generations of providing customers with value, convenience and unparalleled service - whether you're buying a cold Chill Zone drink, a hot or iced cup of Farmhouse Blend Coffee, or filling the gas tank. Family owned for over 70 years, Cumberland Farms also has a long heritage of giving back to the communities where it operates. For more information about a Cumberland Farms near you, please visit us at www.CumberlandFarms.com.
<![if !vml]>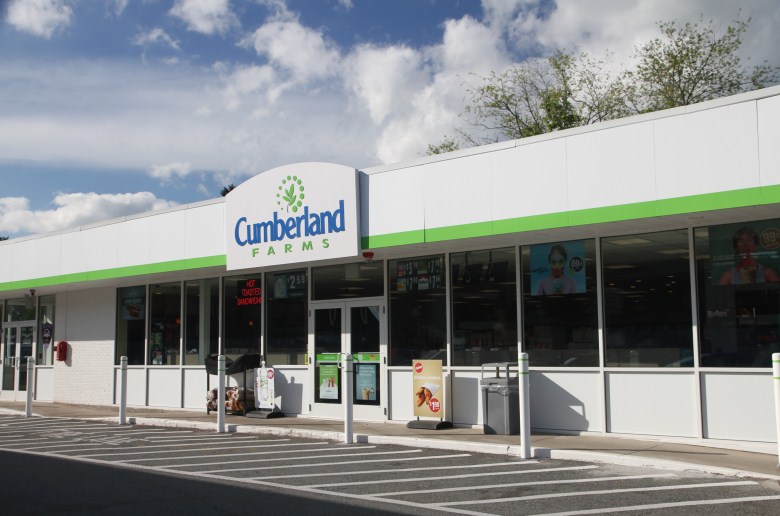 <![endif]>
The newly remodeled Cumberland Farms store at 596 State Road in Westport is helping the elementary school's Parent-Teacher Organization raise money for various programming efforts for students. Cumberland Farms aims to raise at least $1,000 for the PTO.
EverythingWestport.com
Wednesday, May 23, 2012
photos/EverythingWestport.com
<![if !vml]>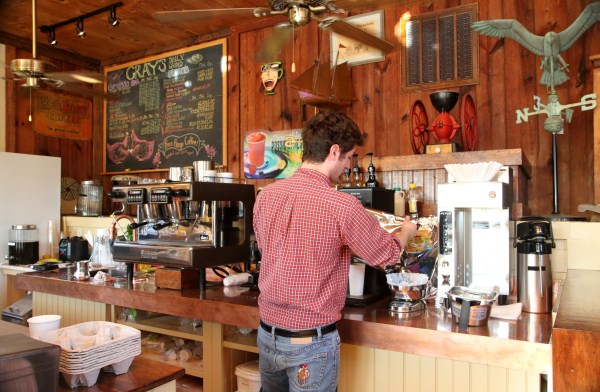 <![endif]>Grays Grist Mill is one the oldest, continuously-run grist mills in America, grinding its corn into nationally-known, stone ground Rhode Island Johnnycake meal.
But now the historic mill is grinding up a different blend of meal, several in fact, as a gourmet coffee shop.
Gray's Daily Grind has taken up residence in the 1800's cedar-shingled mill building next to Adamsville Pond.
Inset: Tim Crough grinds a Gray's Daily Grind special in the one-time corn-shelling room at Gray's Grist Mill.
Mary Miska, a former graphics artist for the providence Journal, is in partnership with Gray's Grist Mill owner Ralph Guild.
The new specialty coffee house will offer espresso, specialty coffees and teas, frappuccinos, fresh fruit smoothies and pastries. Gray's daily Grind coffee is roasted at nearby Coastal Roasters in Tiverton. http://www.coastalroasters.com/.
It's 18th century Starbucks, with a millpond, herring run, "free range coffee," and . . . well you get the idea.
"Many of our pastries are made with Johnnycake Meal including cornbread, banana breads and granola bars," Miska said.
<![if !vml]>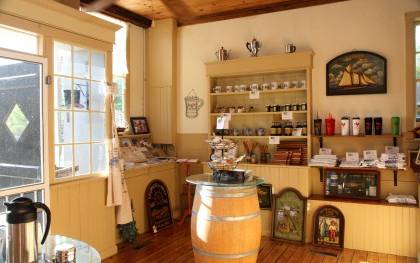 <![endif]>  <![if !vml]>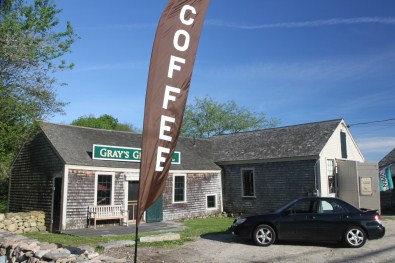 <![endif]>
Left: Gray's Daily Grind is located in the mill's former corn shelling room, which also doubled as an historical museum of the grist mill's history.  Right: The quaint grist mill, hundreds of years old, sits just inside the state line in Westport, and overlooks Adamsville Pond. The pond was dredged several years ago by owner Ralph Guild. Guild is also responsible for the restoration of not only the grist mill and pond, but also several residences on the pond's perimeter.
The shop, or "shoppe" which more accurately describes the old-time ambience, has grain bag window treatments, an antique coffee grinder and percolators, and wooden barrels and crafty plaques.
The gift shop will also be carrying a line of coffee related items for your home brewing and coffee and tea enjoyment.
If you look closely you'll even find a few kernels of corn in the corners and cracks of the old wooden floor.
Grand Opening Week May 27 thru June 2, 2012.
For more information call or click 774.264.9669 or visit their website.
<![if !vml]>

<![endif]>
Above logo is the property of Gray's Daily Grind.
Local Beer Does Good Just in Time for Memorial Day.
EverythingWestport.com
Saturday, May 26, 2012
 
<![if !vml]>
<![endif]>A recent brew by the guys at Just Beer in Westport, Semper Fi P A (a pun on IPA), raised a significant amount of money (over $3000) to be used for a monument to the fallen Marines of the 2/2 USMC. 
Yesterday, the monument for which they raised money has arrived at Camp LeJeune, NC!
Considering this weekend was set aside to remember those who gave their lives for our country, this is amazing timing.

Semper Fi was brewed to raise funds for a monument to the fallen Marines of the 2/2 during OIF and OEF.
An official dedication ceremony is planned for later this summer and the remaining funds raised will help to offset travel expenses for the families of these fallen Warlords.
It is quite an honor to be a part of this moment, according to brewmeister Bill Russell. "What better way to remember and toast the fallen than with a local brew that did some good?" Russell said.  Semper Fi P A.
 
A limited amount of Semper Fi PA is still available at the brewery and at great beer stores throughout the South Coast.
 
USMC 1st Lt Joshua Bruins (of Westport, MA) says this: "Here are some pics of the memorial that went in today.  It's only temporary in its current place and when moved to its permanent spot at the renovated command post spot which should occur in July, there will be a formal dedication ceremony. 
Semper Fi and Warlords forever."

<![if !supportLineBreakNewLine]>
<![endif]>
State representative Paul Schmid, III nomination certification confirmed.
EverythingWestport.com
Sunday, May 27, 2012
The Massachusetts Secretary of State's Office has confirmed that 8th Bristol District, State Representative Paul Schmid, III is officially a candidate for re-election on the September 16th Primary and the November 16th Final Election Ballots. One Hundred and Fifty signatures were required to be submitted and certified to earn a place on the ballot, but State Representative Paul Schmid and his supporters submitted and had certified over 500 signatures of registered voters.
Because Massachusetts realigned its districts, Representative Paul Schmid, in addition to representing all of Westport and the eastern and southern most precincts of Fall River, will now also represent constituents from the northern most precincts of New Bedford and the middle and eastern precincts of Freetown.  The Representative says he is looking forward to the challenge, and has already been going door to door in new precincts of New Bedford and Freetown, in an effort to connect with and meet these new constituents.
Rep. Schmid went on to say that he was very pleased so many voting citizens had signed his nomination papers. "I have been working hard, giving nothing less than 100% of myself to the people of my district. I want to sincerely thank everyone who has signed my nomination papers."
Westport Rivers Announces Sunset Music Concert Series For 2012
EverythingWestport.com
Sunday, May 27, 2012
 
<![if !vml]>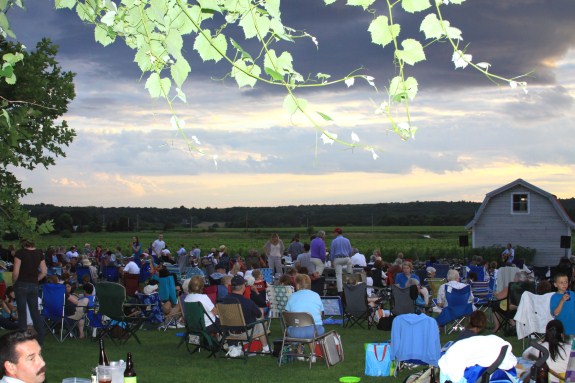 <![endif]>Westport Rivers Vineyard and Winery, a family-owned farm in Westport, Massachusetts, is proud to announce its Sunset Music Series for 2012.
 
The series begins on Friday June 22nd and will run through Friday September 7th. From 6 to 8 p.m. the winery will feature live entertainment as the sun sets over the picturesque vineyard grounds.  It's a picnic style event, and attendees may bring their own food or buy some dinner from award winning chef Wayne Gibson's South Coast Local (who will be serving up a variety of BBQ, from pulled pork sandwiches to hot dogs for the kids). Don't forget a blanket, chairs, bug spray, glasses and a cork screw.
 
Admission is $10 per carload and beer, wine and SoCo local food will be served for a fee. The event is weather permitting and No Outside Alcohol is permitted.
 
The entertainment schedule for the summer is as follows:
 
June 22nd - Toph and Tom
June 29th - Rebecca Correia
July 6th - MRL
July 13th - Blues Train
July 20th -  Neal McCarthy/Michael Lavoie
July 27th - One Bad Ant
August 3rd  - Putnam Murdock
August 10th - Jumpin Jubah
August 17th - Kenny Richards
August 24th - Red Eye Flight Band
August 31st - The Becky Chase Duo
September 7th - Jason Valcourt
 
About Westport Rivers: Over the past 25 years, they've been honored to have the wine they grow served in two White Houses, garnered dozens of Gold Medals and been raved about by local, national and international press including the New York Times, Quarterly Review of Wine, Gourmet, Wine Enthusiast, the Wall Street Journal, the BBC etc.
Their grow 80 acres of grapes including: chardonnay, pinot noir, riesling, rkatsiteli, pinot blanc, pinot gris, gruner veltliner, muscat, pinot meunier and more. Their store is open Mon-Saturday year round, from 11am to 5pm.
<![if !supportLineBreakNewLine]>
<![endif]>
- - - - - End - - - - -
© 2012 Community Events of Westport    All rights reserved.
EverythingWestport.com